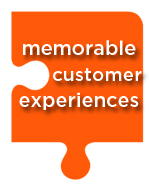 Creating and Delivering an incredible and amazing CUSTOMER EXPERIENCE is the way companies can differentiate themselves in our highly commoditized world.
"A great customer experience can deliver tremendous strategic and economic value to a business, in a way that's difficult for competitors to replicate. This year's study provides the strongest support yet for why every company should make differentiating their customer experience a top priority." — Jon Picoult – Watermark Consulting
The Internet has been the ultimate commoditizer. We have transitioned from the Industrial Revolution to the Internet Revolution…life is now different…and will be forever because of the Internet. Now companies aren't differentiated by their products or services…they are differentiated by the experiences they offer their customers…regardless of industry. And they are willing to pay for it…
"81% of customers are willing to pay more for a superior customer experience…89% of customers switch brands after a poor customer experience…20% of annual revenues are lost due to poor customer experiences." — Oracle Corporation
So how do you attract customers that aren't just looking for a lower price and better terms? How do you create Loyalty and Retention? How do you create Advocates who can't wait to tell others about you and spread Word-of-Mouth? How do you stay relevant today? How do you stay in business today?
ANSWER: By creating Totally Awesome (WOW) Customer Experiences that your customers love and can't wait to experience again and again…and can't wait to tell others. This is how you change the game and become a leader instead of a desperate follower. Companies doing this today are the leaders and are thriving. Those that don't change run a high risk of extinction or will most likely be acquired by those that offer a remarkable experience.
We developed a unique methodology to  help companies create this remarkable experience and described it in our book, "Creating and Delivering Totally Awesome Customer Experiences." It is a "road map" for creating differentiated customer experiences for your company. Customer Experience Mapping™ is a formula we developed to help companies build consistent, repeatable, and scalable Customer Experiences. And when your company delivers these awesome experiences, you become differentiated in a way your competitors can't copy…separating you from your competitors.
Don't just take our word for it. Another great book, The Experience Economy, nailed this many years ago. Pine and Gilmore called it right, "The only way an organization will be able to differentiate themselves in the future is by the experience they deliver."
If you want to learn more about how to be truly differentiated and separated from your competition, give us a shout and we'll talk further and see if you are ready for the journey of your life! If this is the type of company you desire, you have come to the right place and we should talk. We look forward to sharing this with you.
To learn more about the other pieces to the "REMARKABLE COMPANY Puzzle", simply click on the puzzle piece of interest below…