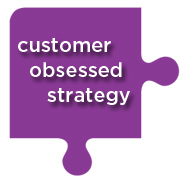 Having a Business Strategy for your organization is critical to success…it's a given. In today's NEW ECONOMY, if it isn't "centered" on your customer, the experts say you might be gone in a less than 5 years if you are OBSESSING over your customer.
"What's the top imperative at your company? If it's not a transformation to make the company more customer-focused, you're making a mistake. Technology and economic forces have changed the world so much that an obsession with winning, serving, and retaining customers is the only possible response." – Forrester Research Company
Customers today have all the power in the market because there are so many excellent choices available to them. Regardless of whether you provide a product or a service, the Internet Economy has "commoditized" every business on the planet. Today (and well into the future) if you aren't OBSESSING over your customer and giving them a CUSTOMER EXPERIENCE that is incredible, amazing and WOW, they won't be loyal to you, they will be loyal to the commodity product or service.
This creates incredible frustration to business owners…but also represents a unique OPPORTUNITY.
CUSTOMER OBSESSION is actually quite simple…it means "Everything you do is centered around the customer and making their life better." It is being "all in" with what you do to serve the customer better than anyone else in your industry. It means everything is about delivering an Incredible, WOW, Memorable, and Awesome experience to them every time…not just when it's right for you, every time!
It starts by creating a CUSTOMER OBSESSED BUSINESS STRATEGY that is designed completely with the customer in the center of the business. Creating a Strategic Plan that focuses on showing your customer they are the most important part of your business is the key to success. It also helps in answering the question every leader should be asking about everything in their business…"How will this impact our customer and make their life easier when they deal with us?" The next question should be, "What can we improve to make this even better for our customers?" These questions help to constantly keep a businesses focus (and its employees) on the customer.
We help companies create CUSTOMER CENTERED BUSINESS STRATEGIES so they can start modifying their processes and activities to fully embrace and support their customers. If this is something you have wanted to do but not sure how to start…that's what we do every day. Give us a call…we would be happy to talk with you further about how this can create the Ultimate Differentiation for your company and elevate you above your competition!
To learn more about the other pieces to the "REMARKABLE COMPANY Puzzle", simply click on the puzzle piece of interest below…