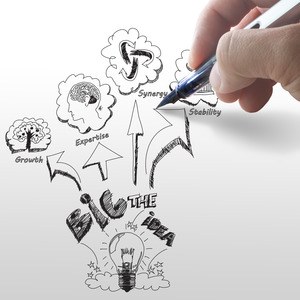 It doesn't matter whether you are an investment advisor or product manager or the owner of your business, there is one thing everyone wants…a Return on their Investment. If you think about any aspect in business, there is always this looming question, "What's going to be the return if we invest in this product or service or customer or employee or _________ (fill in the blank).
It's how business works and it may be more important today than ever before. With our low "barrier to entry" of businesses popping up at any time to offer something better, faster, cheaper or anything else that can hurt us, it's very important to make the right decisions in this area. I spent my early professional days in sales for IBM and if we couldn't demonstrate an ROI, we were toast. Thank heavens I went to MBA school and put some primary emphasis in the finance area or I would have really struggled with understanding how important this was to companies…it's vital.
Some ROIs are simple to measure…we spent this and we saw this in return…easy calculation. Others are much more difficult because their components are hard to track. It isn't that we can't find the ways to measure things, it's that we can't track the components that go into the measurement. Marketing is always a target in this area…lots of things going on but in many ways it can be difficult to track specifically what is going on in these areas.
"Customer Investments" are another area that is difficult for most executives to get their arms around when it comes to ROI. That might sound a bit silly since they are the ones that pay you the money for the "return" on everything you do, but it's often an issue. For example, if someone in your organization comes up and says they want to invest in a customer event, the first question is what is going to be the return on that event. What if it was a "customer appreciation" event…how do you measure the ROI of giving back to a group that has already given you their money? Difficult discussion inside the organization.
The problem with investing in your customer it that it seems to be difficult to track…there are lots of moving parts to a customer lifecycle. So we try to track their activities through our "Customer Journey" or "Customer Lifecycle." This helps…but it's not exact in most cases. So as a business leader, how do you know if and where you should be investing in your customer? This can be a very difficult question for business leaders to answer.
Your customer also wants to know the answer….where are you investing in ME? What are you doing to make my experience and life easier and better when I deal with you? Why are you investing in these other areas instead of investing in me, your customer, and the one that pays you money so you can do all these other things? What about ME?
Let's say you held a customer meeting with all your customers in the room with one purpose…showing them where you invested your money in the company last year. You create a pie chart and colored in all the areas showing how you allocated $1 of investment into your business. Would they be happy with the pie chart or ask the questions in the paragraph above? You might try to convince them that everything you invested in was to help them, the customer. The reason you put more money into products and services and building improvements and marketing and_____ was to help them, the customer. This might work for some, but most don't see the direct connection to them.
The one area customers tell us they want you to invest in is THEIR EXPERIENCE. They want you to invest in the way they are being treated by your company…everyone in your company. Investing in products and services is great…but it's something they use, not directly into them. The way the customer sees it, they can go get these products and services from one of your hundred other competitors. If all they wanted was the best product, they can find it. Most businesses really don't compete and lead because they have the best product or service…it's because of a variety of other factors involved in their purchase.
The CUSTOMER EXPERIENCE is the biggest reason customers will rank you above your other hundred competitors that sell the same, or close to the same, product or service. Amazon is a great example in my area of the world…you can get anything Amazon sells somewhere else…maybe even cheaper…but not with "One-click" and the promise they will make it right for you. There are lots of places that offer better and more thrilling rides than Disneyland…but they are the only ones that offer the entire experience of fun and happiness in everything they do for every member of your family. We go to Amazon and Disneyland not because of the products and service but because of the experience.
Here's a simple way to illustrate this point I think will resonate with everyone reading this today…
If it was only about us wanting the very best product and service, why would we need more than one company in every category…we would all just buy from the one company because they sell the very best product or offer the very best services. We don't…we want choices and we want to be treated incredibly well by the company we are buying from…we want the very best experience.
Online shopping has complicated this for everyone. The reason many still go to the corner mom and pop drugstore isn't because of selection or the very best products…it's the experience. The reason we still go to the corner bakery isn't because of their selection, it's because we know the owner and we get treated like a human being with an awesome experience.
Here's a great strategy if you are a small to mid-sized company that isn't public…hold an annual meeting with your customers. You don't have to hold an annual meeting by law…so hold one anyway and invite all your customers. The purpose is to share with them how you are going to invest your dollars tomorrow. Explain to them how you have been relentlessly focused on investing finding/creating the very best products and services you can possibly find. See how they react…they will like it, but it won't be spectacular.
But then tell them you are going to invest your money in THEM this year. While you will will continue to have great products and services, the bulk of your investment dollars are going back into them, the customer. You are going to invest the money you used to spend on trying to be the best product company into being the best "customer company" and giving them an experience that is better than anything they have ever seen in your industry. You are going to be relentlessly focused on them this year and giving them an experience they can't wait to talk about and tell others…the meeting will completely change in attitude…it will rock!
After the standing ovation dies down…and there will be one…you now know where you should be investing your money. Some might leave because they only want the best product for the cheapest price…let them go. The majority will stay and thank you for INVESTING IN THEM…the ones that pay you the money in the first place…the ones that will be loyal…the ones that will spread word-of-mouth about you to others, just like them.
Your ROI will certainly start to look very different…it will show you how increasing loyalty, retention, and advocacy leads to both an increase in share of wallet per customer and lower costs in serving these customers…because they are now part of your sales and marketing team helping you spread the word and get more customers at a much lower cost. Higher returns and lowered costs gives you a much better ROI. Invest DIRECTLY into your CUSTOMER and see what a difference this can make to your ROI and the differentiation of your business.