For your organization to be successful at becoming Customer Obsessed, you need an approach that is "easy to understand" and "easy to execute" – we offer both.
Our Approach is based around helping you transform your organization from being "product/service centric" to one that has your Customers at the center of your universe in every aspect of your business. The end goal of this is to build massive, sometimes exponential, Word-of-Mouth, or as we like to call it, "Word-of-Mouth on Steroids".  It puts you on a path to building "Customer Marketing Agents" for your company by creating advocates out of your customers so they can't wait to tell others about you. This is the goal of our unique approach.
After spending the past 10 years (in addition to spending 15 years with large consulting firms) working with clients and researching what works and what doesn't, we developed an Approach that delivers results. But just as important as the result is how you are treated, what was your experience, how did you feel when you worked with us…this is our passion and our guarantee. You will ALWAYS be treated with respect, feel you are  part of the solution, and have a WOW experience…one that we hope you will tell others about. Just so you know, 100% of our revenues are derived from Word-of-Mouth or speaking engagements…we live what we build for companies just like yours.
Below is an overview schematic of how our Approach works in virtually all organizations.  While we don't always deliver every area to all organizations (some may be further along than others) the process is one that gives you solid results in the end. The approach works for B2B (Business to Business) or B2C (Business to Consumer) or Non-Profit organizations.

Below are more detailed descriptions of each area in our Approach. NOTE…These steps are an overview of how we help you become Strategic in what you are doing as an organization. We always start with asking WHY you want to do something and build off this to create the ideal solution for your organization. Not every situation requires the same details or depth in Approach, but we always answer the WHY question. Then we create HOW we are going to execute it and WHAT we are specifically going to implement. .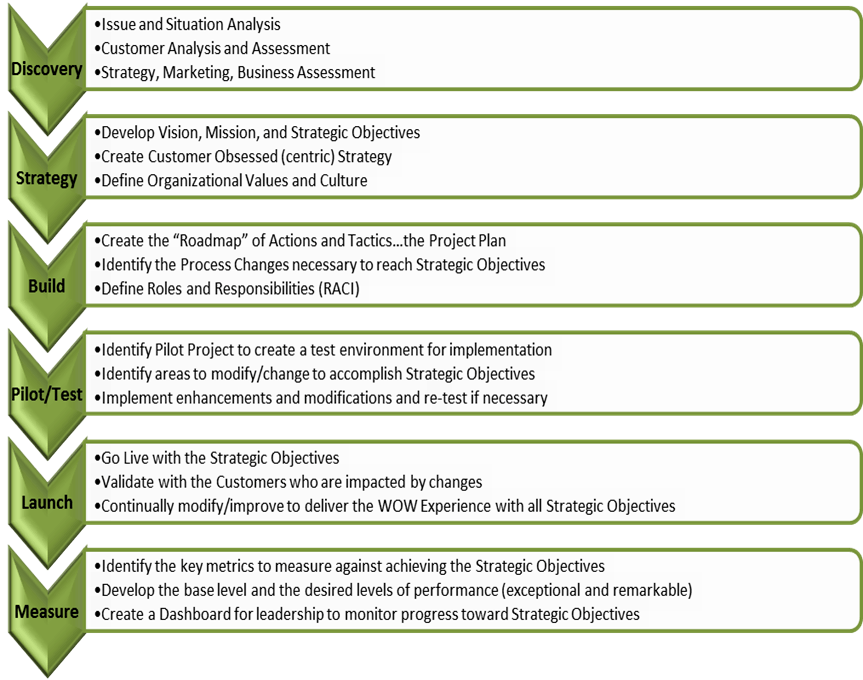 So there you have it – a simple and straight forward Approach for how we help organizations BEGIN, EXECUTE and build trusted relationships that leads to WOM – Word-of-Mouth on STEROIDS.  Organizations that want to become Customer Obsessed need an approach and a roadmap to follow so they don't get lost along the way (or distracted). Our approach keeps you on track and helps you reach the coveted state of being called Customer Obsessed!!
If this looks like an Approach you feel comfortable with and would like to learn more, please give us a call or shoot us an e-mail, we would love to talk with you further.
PHONE: 425/260.6264
e-mail: Blaine Millet