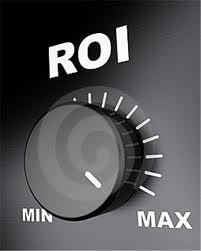 In the 100+ speeches I give every year, this one question is definitely in the "Top 5" list of those I get asked, "What's the ROI of Social Media?" Good question, much more difficult answer depending on the company, their strategy, goals, and expected outcomes.
In all my previous training working in a "Big 5" firm for many years, IBM, and my MBA, one thing was very clear to me.  When calculating and ROI, you first have to have an "I" to worry about the "R" or it's a wasted discussion.  Meaning…if you haven't invested anything into the area you are considering, how can you expect to find much return.  This is very real for this discussion because if you haven't made much "investment" into social media, is it really fair to ask for a big "return"?
You also have to keep in mind the law of "comparatives" in this analysis.  This says that if you are looking to "replace" something with something else, the ROI should be at least as great or greater but certainly not less or it isn't a good business decision unless it is identified to be a good idea for other reasons.  Let's talk about this a bit further…
For example, in the case of social media, an executive might not want to "invest" a lot in social media because it is still new and in their mind unproven to them personally.  So the default question becomes what is going to be the ROI of this investment of time and resources?  Valid question – but only if you decide to engage with a solid "investment" can you start to get a solid "return".  They might have a $10k or $30k/month marketing/communication budget today but only invest $5k/month and expect the return to be greater than their other investments return – not a fair question.
The other factor to consider is what is the return on the other investment.  The majority tell me that their current investment is generating less and less return every day – further illustrating the death of traditional media.  No longer do they get anywhere near the return they did 5 or 10 years ago – the Mad Men model is dead.  So a better question would be, "Can social media deliver a comparable or better return on the same investment I am making in traditional media today?"  The answer should be a "YES" if a solid social media strategy is put in place – not just throwing "buttons" on the website.
So as an executive, ask yourself the ROI question with two things in mind: 1) am I willing to make an investment great enough to see a return; and 2) do I have a solid social media strategy in place that would give me a comparable or greater return than I am getting from my current (declining) marketing investment.  These are the right "I" questions to answer and will give you a much greater success in generating the higher "R" in ROI.