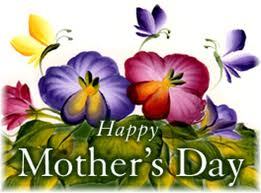 HAPPY MOTHERS DAY to every mother out there – what a beautiful day we have been blessed with to honor our mothers, wives, grandmothers, mother-in-laws, and any other mother you know that deserves to be honored today!
My message is simple today…
For one day of the year (at least) stop telling everyone how wonderful you are, where you're eating muffins, who you're eating muffins with (unless it's your mother), or anything else about YOU!  Today, use ALL your social media connections, followers, friends, etc. to tell them how GREAT your mother is or how GREAT someone else's mother is – just talk about Mothers today – and use your social media power to "spread the word" and create massive WORD-OF-MOUTH about them.  This would be a great use of social media – let me start…
My mother passed away a few years ago and I miss her.  But she is not forgotten. I think about her often and the amazing part is when I think about her I remember all the great times we had and great things she did for me – thanks Mom! She was a foundation of who I am today and is a part of shaping my life.  Every mother has this impact, good or bad, but today, remember the good…
My wife is AMAZING – that's the simplest way I can put it. This blog would go on forever if I talked about all the greatness she possesses…and maybe it should!  She is the "rock" for so many people and is one of those rare individuals who constantly cares more for everyone else than herself.  Her love pours into everyone's life and everyone is a better person for knowing her.  Our kids are the luckiest on the planet!  Sounds selfish but they are…Happy Mothers Day Lorrie…you are AWESOME.
My Mother-in-Law is simply wonderful – how many times do people get to say that!  You never know when you fall in love what that is going to be like until you live it – I was truly blessed with GREAT in-laws.  But I guess that goes to show the influence a mother has on their daughters – I married theirs and as I said above, she is amazing so I guess the foundation was laid long ago for turning out wonderful mothers in their family.  Happy Mothers Day Valerie…you are AWESOME!
Now it's your turn…tell everyone about your mom and other moms that have made a profound impact on your life – they deserve it today and your social network will be much better off than just knowing what YOU are doing today…unless its with mom!