While this is mainly aimed at CEOs and other top Executives that blog, it is applicable to anyone and everyone that considers themselves to be a "blogger" – whether personal or business.
Social Media has turned the world upside down, sideways, and any other direction you can think of – it is truly a revolution.  Because it is such a dramatic change in the way we communicate and interact, the language also has to change.  This is where people, including my clients, get stuck.  And when I talk about "getting stuck" I am referring to their ability to "write" and communicate their thoughts.  This is called "Social Media Speak" and is very different than what we have known our entire lives.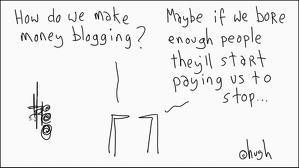 Social Media speak is just plain different.  It isn't what we learned in school (regardless of grade or degree) and it isn't what we learned in our early jobs.  We constantly hear about "telling stories" to our audience.  But what does that really mean and how do we make this work on our blogs?
Think about it this way – this is the "acid test" of whether your blog content is blog worthy or not.  Take your last 6 blog posts to the next party you go to – find someone you know and someone you don't know – then read to them, verbatim, your blog posts.  If you find them leaving to go find the bad onion dip instead of listening to your post, you should continue reading. If they stopped you while they could gather everyone in the room to come listen to you, then you can stop here – you have arrived.
Blogging is not about how good of a writer you are and how grammatically correct every sentence is written.  In fact, much of this blog is probably grammatically incorrect, yet people still read it regularly.  It isn't about perfectionism (topic for another post) but about real time and fresh.  It is about emotion and your ability to convey your passion for whatever you are writing about in about 3 – 5 paragraphs.  You don't build up the story, you just tell it.  It is meant to captivate, not draw you on forever.  The best "bloggers" are usually not the best "writers" – they just tell the story.  So next time you sit down to blog, picture yourself at the party and honestly ask yourself, "Did they just leave for the onion dip or are they gathering to hear what I have to say?"  That should answer whether you should continue writing or start over.